Try before you buy
Forget the leaking and super foggy goggles they are wasting lesson time. We want SOLS students to get maximum practice time which is why we stock the amazing Aqua Sphere range of goggles.
We love these goggles so much, and want you to know how good they are before you buy them for your child!
For our students to get maximum practice time it is important they have quality properly fitted goggles. Good quality and properly fitted google shouldn't leak, and should not become uncomfortable.
SOLS will recommend a goggle based on the needs of your child and the shape of their face. We will then allow them to wear these in the pool for a test run before you buy them.
All Aqua Sphere Goggles offer 100% UVA/UVB protection, have a special Anti-Fog treatment, are Scratch Resistant and come with a Protective Case.
With the launch of its cutting-edge Seal Swim Mask – the world's first Swim Mask, Aqua Sphere set the industry standard and today continues to innovate with a complete range of Swimming Gear, including Adult Swim Goggles, Kids Swimming Goggles, Swimwear and Triathlon Wetsuits.
MOBY KID SWIM GOGGLES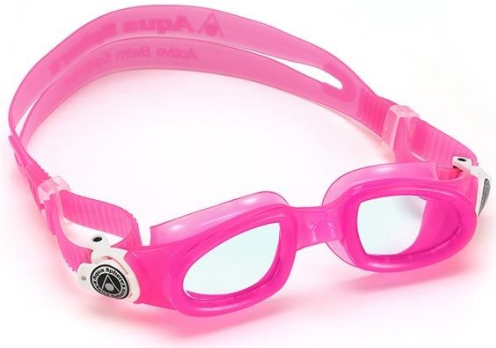 Perfect for babies, toddlers and children with small heads. Bringing Aqua Sphere comfort and quality to the recreational swimmer, the Moby Kid utilizes a one-piece frame construction, Aqua Sphere's proprietary Softeril material, easy to adjust side buckles.

SEAL KID 2 SWIM MASK
The original swim mask for children, the Seal Kid delivers a leak free fit around the eyes for children as young as 3 years old. The Seal Kid utilizes Aqua Sphere's patented curved lenses for a wide field of vision making children more confident in the water. The easy to adjust side buckles make it's easy for parents and kids alike to adjust
~ Patented curved lens with 180-degree field of vision
~ Perfect for all swimming activities

VISTA JR SWIM MASK
Designed for ages 3 – 13. The Vista Jr Swim Goggles fit like a mask by sealing around the outside of the eyes, eliminating any pressure on the eye sockets. This creates a more Comfortable, Leak Free Fit so your kids can wear them all day without worrying about getting water in their eyes.
Our Quick-Fit Buckle System makes adjusting the Vista Jr head strap easy. Just push the button to loosen or tighten, even while your kids are wearing them. No more fighting with clips poolside or trying to stretch goggles over your kids head.
The Oversized Lenses are made from ultra-durable Plexisol and incorporate Aqua Sphere's patented Curved Lens Technology, to deliver a crystal clear 180° wide field of vision. This gives the Vista Jr a very open, unrestricted feel that will boost your kid's confidence in the water.

KAYENNE JR SWIM GOGGLES
Made for youth ages 6-15.  It's unique, oversized lens design combines expanded 4-point vision with superior hydrodynamics thanks to its low-profile micro-frame. This combination makes the Kayenne a perfect choice for a competition, whether in a pool or open water.
~ Oversized, ultra durable Plexisol® lens for 4-point expanded, 180-degree visibility
~ One-touch, Quick-Fit Buckle™ for perfect fit with simple adjustments – even while wearing
~ Stabilizing nose bridge keeps fitting secure and comfortable