Are you looking for the best mobile swimming lessons in Adelaide? You have come to the right place! Find out more about swimming at home, today.
---
Seasonal Information
School of Little Swimmers has been offering mobile swimming lessons at home pools across Adelaide, since 2014.

We believe children need more than swimming lessons to keep them safe in the water, they need to know the environment they are swimming in.
The skills and knowledge gained through swimming lessons in your home pool provide a layer of protection that can not be achieved with swimming lessons at your local pool, this ensures your children are safer while swimming at home!
Our at-home lessons are designed to educate using a tailored approach based on the needs of your child, and your home pool. Our lessons allow your child to become confident and competent within your home pool, an environment, which you spend a lot of time in during the warmer months.
We work with you to find a mutual time and day that is suitable for your family schedule. Invite your family or friends to have lessons with you; we can accommodate a maximum of three students of likeability in the same class.
Your designated swimming teacher will attend your home on a weekly basis with all the equipment required for your child's lesson.
With lots of enquiries coming in, act now to book your lessons with your preferred swimming teacher for the upcoming season starting in November.
To make a booking head to our customer portal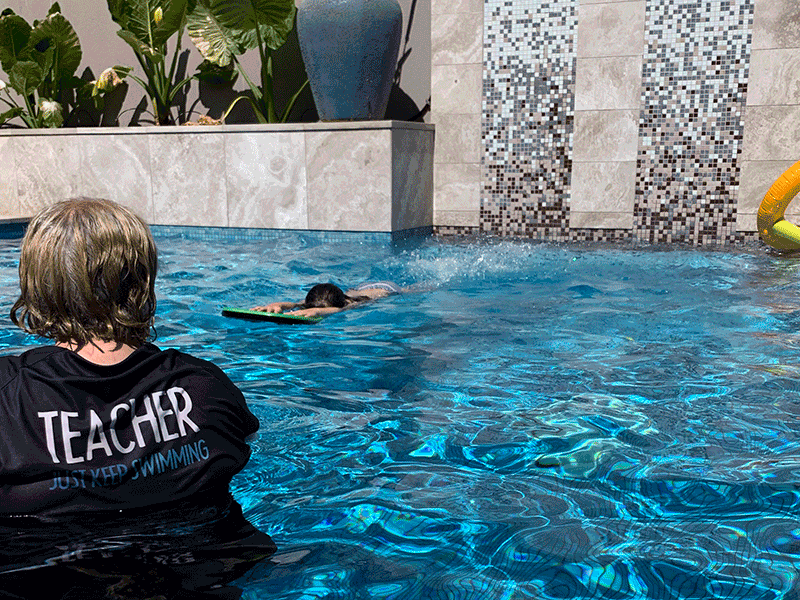 Fees
We have two fee structures available:
Our Standard package does not accommodate make-up lessons.
Our Flexibility package does accommodate for make-up lessons – Make-up lessons can be booked by contacting our office on 8460 0095.
Click here to view our fees
Further information
Minimum of 1 student per class
Maximum of three students per class
Suitable for all ages and abilities
We ask that your pool be heated to a minimum of 28 degrees.
SOLS will conduct a pool chemistry test to ensure that the pool is fit for use.
Season Dates
Our season for at-home lessons commences mid-November and runs till mid-April SOLS closes for the Christmas and New Year period; we will be closed from Monday 21st Dec 2021 and reopen on Monday 11th Jan 2021.
If you have an indoor heated pool, SOLS can offer an all-year-round service.
From time to time we will need to cancel lessons for reasons out of our control e.g. dangerous weather. Refer to our policies for further details.
Link for policies
https://app.iclasspro.com/portal/sols/policies/family
https://app.iclasspro.com/portal/sols/policies/student