How long will my child need to attend swimming?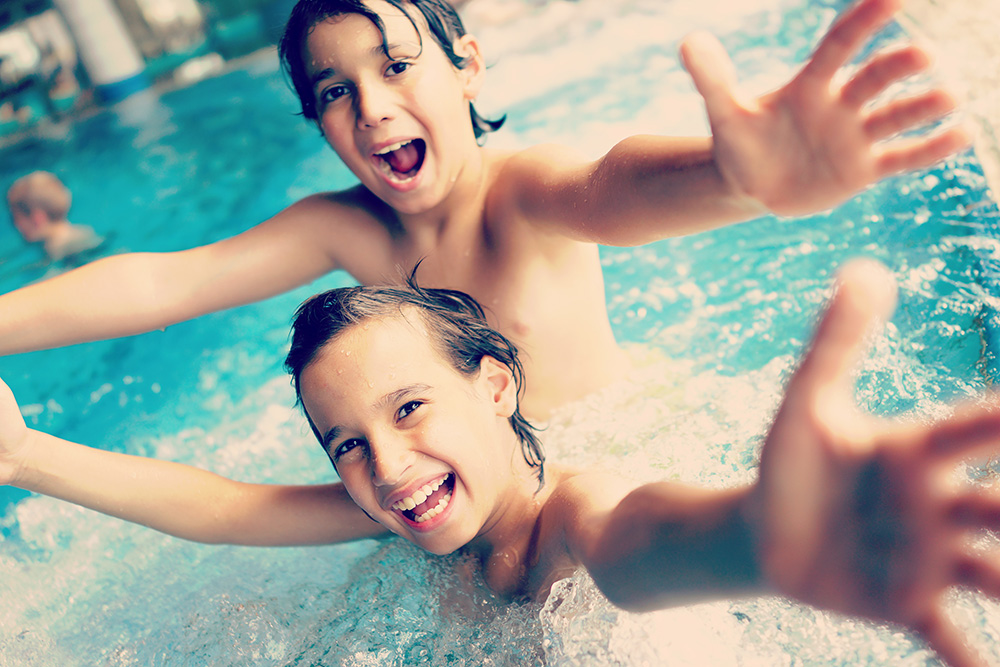 Teaching a child to swim requires a big commitment.
Most swim schools want a child to be enrolled from six months of age and then continue through to primary school, where they would learn about safety as well as the four competitive strokes.
Swimming technique takes years to accomplish and the understanding that swimming not only teaches children safety skills, it also teaches them a range of skills for different sports and recreations.
Rather than focusing on how long your child will need to attend swimming, let's aim to find how they can get the most out of their time at swimming and look at different ways you can introduce swimming into your child's life.
Take swimming lessons in Winter and in Summer
Children benefit most with lots of water play. Most parents look at taking their children to swimming lessons through the summer seasons. This is fine, but the time between each summer is invaluable. What better way to build your children's swimming, skills and confidence, than continuing their development throughout the winter months.
Learning to swim requires regular exposure.  At School of Little Swimmers, we have our pool heated at 33 degrees all year round. This makes swimming through the winter very practical and the perfect opportunity to build skill and confidence all year round. Also, class sizes can be smaller during the colder months as numbers drop off and you may find your child will get more practice time and individual one on one attention.
Try holiday intensive programs to fast track your child's progress.
Holiday intensive programs are usually run over the school holidays and are great for rapid progress. Parents can also take note of what the instructors are working on and practice at home or at the local pool.
The Holiday programs are usually called "learn to swim".  These lessons should focus on breathe control, submersion, floating and propulsion.
These programs might be the best answer for your family if weekly swimming lessons are hard to program into the schedule.
Did you know we offer At Home Pool Parties?
This is a great way to keep up the swimming skills, while in  the comfort of your own home.  Children often thrive when they are in a more familiar and comfortable environment, and what a better way to build their confidence than a pool party with friends at home. Your party leaders are qualified swim teachers, rest assure your children will be in the best hands for a pool party!
Visit the local pool and play!
Children learn through exploration, remember floating is the basis of all learning to swim.
Children can learn to swim without formal swimming lessons. But, this usually occurs when the child has constant exposure to water.
This type of learning to swim may not lead to perfect technique, but your children will become mobile in the water. We always refer back to floating when teaching, as floating is the foundation skill of all water safety and formal strokes.
If children learn to float, they will use relaxed arms and legs to move through the water. Those who don't master floating will often continue to struggle in the water. Children with home pools usually have a considerable advantage over those who don't because of regular play and exposure. Always remember home swimming pools come with responsibilities and risks.
Benefits of Swimming and are Swimming lessons worth it?
We have never heard anyone say that they regret teaching their child to swim. Learning to swim is truly a gift for life. Drowning is a leading cause of accidental death in children under 5. Supervision is essential and swimming lessons are there to teach children a love and respect for the water, making them less likely to wander into dangerous situations.
Swimming is good for your child's health and safety and it can generate a real community for some.  Swimming lessons are great for your child's social, emotional and physical development.
Information like this can be backed up by reading a study conducted by Professor Robyn Jorgensen who over a four year period, demonstrated that early years swimming builds children's social, emotional, physical and intellectual capital. The study also showed that children had advanced scoring on language development, comprehension, literacy and numeracy when starting school.
If you have any more tips, let us know, we'd love to hear them!
Contact us today for more information about maintaining your pool, or for any of our 'At Home' Swimming packages or options. We have a number of qualified trusted staff to make swimming at home a convenient and safe option for your child's education this season.
early years swimming builds children's social, emotional, physical and intellectual capital.
– Professor Robyn Jorgensen
Want to find out more?
Feel free to browse through our 'At home' Swimming options for your child.